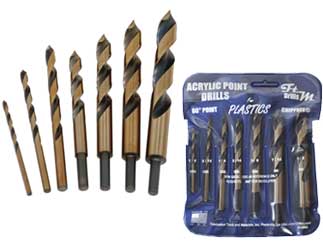 Black and Gold Series Drill Sets:
Special Hi-Molybdenum tool steel, gold surface treated body, flute and point for maximum lubricity. Super CHIPFREE™ point is precision ground at a 60 degree angle for gradual penetration to avoid cracking and chipping of the acrylic material. Protective Vinyl Pouches are conveniently marked with drill sizes, feed rates and recommended RPMs. Excellent choice for hand held drill applications as well as drill press or automated machines.
---
12" Acryl-Piano Hinge™
A wide 1-3/4" Piano Hinge manufactured from High Strength Acrylic. The NEW Acryl-Piano Hinge™ works on material up to 3/8" thick. The nearly 11 square inch bonding surface features FTM's trade mark Micro Dots® for the fast, easy bonding, the fabricators have come to expect from the Acryl product line. The low profile design offers a clean and clear look your customer is sure to appreciate. The Self-lubricating Pin is securely locked in place with a spline on one end eliminating the problem of a pin that works loose, and provides a smooth operation with less squeak or binding.
---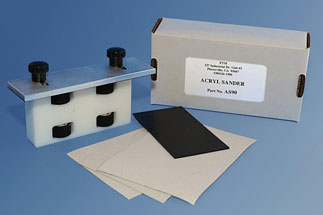 Acryl-Sander™
Acryl-Sander™ is a custom tool designed for precisely sanding edges of acrylic vitrines. This tool consists of a block with four non-marring wheels to glide smoothly over the acrylic surface. There is an adjustable plate with a hook and loop surface that can sand acrylic edges perpendicular to the block using hook and loop backed sandpaper. The plate is adjustable and is designed for precisely sanding case edges up to 1" thick.
---
Acrylic Headlight Restoral Kit
Return your headlight to "Like New" condition, improving illumination and appearance. This system includes applicator pad for use with had held electric drills.
Drivers and passengers alike need and appreciate the clear view that well maintained headlights provide. Comfort, enjoyment, but more importantly, SAFETY, are all requirements today! The smallest of scratches can lead to crazing. By keeping headlights smooth and optically clear, through regular maintenance, crazing can be avoided.
---
Acryl-Cam Lock™
INTRODUCING from FTM THE FIRST EVER SOLVENT CEMENTABLE CAM LOCK
Designed with Micro Dots® to be solvent cementable, this new concept offers labor savings and a fresh new look for your displays.
---
---
VERTICAL PANEL SAWS
1 Person Operation
Dust Ports
Industrial-Duty Motors
Material Rollers
Built-in Rulers
---
LEISTER HOT AIR TOOLS
Ideal for Plastic Welding
Ergonomic Handling
Adjustable Air Volume Setting